Berry Recruitment Group acquires FRS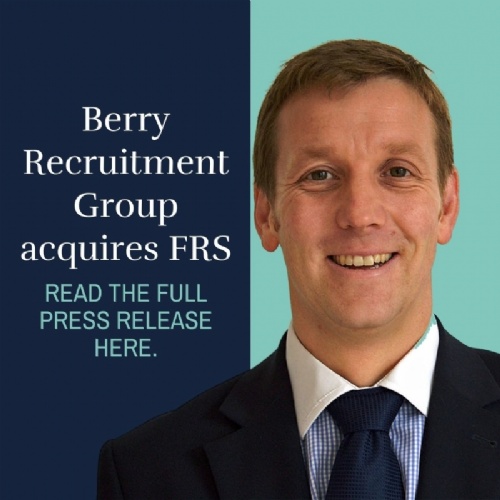 Berry Recruitment Group (BRG) has acquired First Recruitment Services (FRS), it has announced.
FRS works from three locations in Sussex; Brighton and Hove, Horsham and Haywards Heath.
It means BRG has a presence right along the south coast from Cornwall, through Devon and Dorset into Southampton, Gosport, Portsmouth, Sussex and Kent.
The deal, for an undisclosed sum, will add around £6m to BRG's turnover which last year came in at just under £70m, with its profits before taxes, depreciation and amortisation (EBITDA*) up 49 percent.
FRS's business employs 17 staff at its three branches and was targeted due to its focus on the office and light industrial sectors.
Ultimately FRS will operate as a division of Wild Recruitment, which has four branches, in Portsmouth, Poole, London and Milton Keynes.
When commenting on its accounts in March, BRG chairman Tony Berry said the company would focus on organic growth and make targeted acquisitions.
Managing director Chris Chown said: "FRS is led by Claire Sipple and she is supported by a very strong and experienced senior management team.
"The company's financial figures were impressive as were the staff who have grown it over the years. We're grateful that FRS's managing director, Andrew Kaltz, will be staying on as a consultant.
"FRS very much aligns with that of Wild Recruitment, both in terms of its focus, dedication to service and its geography.
"After the interruption of Covid we were keen to get back on track with the planned growth of BRG through organic means and acquisitions.
"This deal shows our commitment to developing the group.
"Our other acquisitions have bedded in well and that has helped us become a national company that works from nearly 40 locations in England and Wales.
"We remain focused as a group on sourcing candidates, who remain scarce, and investing in innovation, such as our BuzzHire and Berry Recruitment apps."
Andrew Kaltz, founder of the three FRS branches and majority shareholder and managing director following his management buy-out in 2005, says BRG was the best fit for FRS.
He said: "I had a number of offers but held out for a meeting with Berry Recruitment Group because of its reputation in recruitment.
"Its chairman Tony Berry is an industry legend and the company does things in the old-school, correct way, such as seeing clients and candidates face-to-face and making sure every i is dotted and t crossed.
"It's been an amazing 20-plus years at FRS, with ups and downs, as well as moments of pure magic. In other words, it's been a blast. The FRS journey continues, and I'm delighted to be a part of it."
Michelle Merritt, managing director of Wild Recruitment, said: "We're very much looking forward to having FRS join the Wild team.
"Their values and ethics align with ours and they have excellent consultants and senior management."
BRG is headquartered in St Albans, Herts.