Steps for Success After Redundancy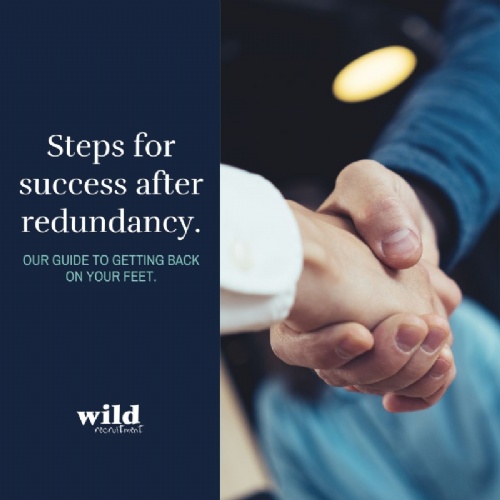 While businesses try to recover from the financial blow the COVID crisis dealt, many are sadly having to consider making redundancies.
As experts in recruitment and employment, we've compiled a helpful guide on what to do if you've been made redundant to help you back on your feet.
It's so important to remember that while being made redundant can be devastating, it is not a reflection on you personally and in this current climate, so many others are in the same boat. Which is exactly why you shouldn't be afraid to reach out for help or advice. From friends, family, co-workers, your local recruitment consultant or even on platforms like LinkedIn. With many suffering the same, you may find yourself in a support network of people who can assist each other in different ways.
By explaining that you're looking for work on a site like LinkedIn, your connections can share your post with their connections, starting a snowball of potential employers looking at your page. With any luck, your post could reach the right person who's prepared to provide you with your next opportunity.
If your LinkedIn page is slacking slightly, give it a refresh with your skills and work and ask your colleagues and managers to endorse you. These minor changes may give it the boost you need to be visible and successful!
Take time to establish your true wants and needs
While redundancy can be terrifying, it's not always a bad thing in the long run. See it as an opportunity rather than a set back and use your time to really think about what you want next and do some research. You may want to jump right back into an identical role – if so, then great! You have the experience you need, and this gives you the opportunity to find a new and exciting company to work with. On the other hand, it might give you the push you needed to train in something completely new or perhaps even work for yourself. There is no doubt the world is changing so you also need to consider what skills and sectors will be in demand.
If you've been in the same role for a long time, the likelihood is your CV will need picking up and dusting off a little – particularly if you're wanting to try something new. It's important to tailor your CV to the kind of work you're looking for, but this may not always be entirely possible if you're wanting to train in something very different. In this case, make sure all of your transferable skills are detailed in your CV and write a spectacular cover letter explaining your reasons for applying for the role and what you can bring to it. As always, make sure to do your research on the industry, the role and the company you're applying to first.
Need help making your CV stand out? Download our free guide
here.
While on the hunt for a new role, it's always a good idea to brush up on some of your skills at the same time to give you that edge over other applicants and show that you're productive. You can opt for a long form paid course, which will certainly arm you with enough education and knowledge to impress your interviewer with, but free short courses are also great for topping up your skills, refreshing your memory or even learning something fairly simple. Some free platforms like
Google Digital Garage
will even reward you with recognised certifications on completion of your courses, which you can attach to your CV, job applications or LinkedIn page.
While many businesses are under recruitment freezes,
temporary work in some sectors is flourishing
– particularly in the driving, delivery, online retail and construction sectors. With Christmas fast approaching and retail demand running at 30% above supply – supermarket workers, drivers, and industrial operatives are needed now more than ever.
While it may not always be your dream job, a temporary role offers flexibility, a chance to learn new skills and meet new people, the opportunity to cover an employment gap and most importantly, a lining in your pockets throughout the holiday season.
Working as a temp is a great way to bide yourself time to consider your next steps, especially when it's uncertain when the job market will return to (almost) normal.
Interested in becoming a temporary worker? Browse our current vacancies, visit our Candidate Zone to find out what our service includes or get in touch with your local branch.
You're upset, confused and annoyed – it's understandable. But you must remember that no employer wants to have to lay off their staff and in situations like these they have to do what needs must to keep afloat. Remember that if you want a glittering reference from them to impress your new employer with, you're going to need to continue working hard as usual and maintaining positive relations. Even rude or negative social media posts about your previous job can come back to haunt you. You won't regret keeping things amicable for the remainder of your time there, but you might very well regret messing up your chances of a reference.
Enlist the help of a professional recruitment service!
It's totally free to job seekers and it can make the job hunt quick, seamless and hassle-free.
At Wild Recruitment we deal with some of the UK's most established companies filling thousands of temporary and permanent vacancies. This means we have developed specialist experience in each of our chosen sectors. And, crucially, it means we are experienced in working in partnership with our candidates and helping them find their ideal roles. We know that the right work choices can be vital to your future and Wild Recruitment can help you achieve your ambitions.
Check out our
Candidate Zone
for a full breakdown of our benefits to you.