How does a recruitment agency work?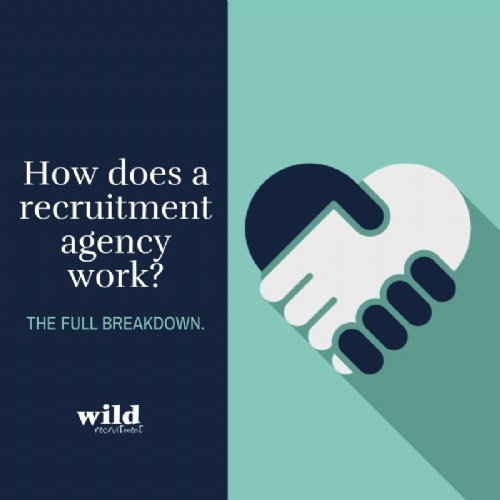 Recruitment agencies work on behalf of employers, but operate as an intermediary between the business and prospective candidates. Their goal is to match top talent with an employer's needs in order to achieve growth, insight, an improved service or financial gain.
In the first stages of the recruitment process, the agency will consult with the employer to establish what they're looking for in a candidate. Here at Wild Recruitment, from the moment a booking is placed with us, we work to fully assess the business working culture and needs.
Once a job specification outlining the fundamental requirements of the role has been supplied by the employer, the agency will get to work on matching the description with their pool of quality candidates, who – at Wild Recruitment for example, will have already been carefully vetted with an in-depth interview, screening and induction process. Alternatively, recruitment consultants may source candidates externally in order to find the perfect fit.
Once a shortlist of candidates has been formed, the CV's will be passed onto the employer for their consideration and they will decide who they would like to invite to an interview.
While recruitment agencies work on behalf of employers, they also offer a
free service to candidates
, including career advice, interview support and CV tips. If there are no vacancies suitable to the candidate at the time, a consultant may actively seek out opportunities for them.
With temporary roles, the agency operates slightly differently in that they are responsible for the candidate as opposed to the employer, meaning the agency pays the candidate. The employers remain responsible for supervision of the candidate during the assignment. Temporary staff can be ideal for businesses when workload fluctuates – and for candidates, temporary roles can offer them flexibility, experience and the opportunity to get their foot in the door of a new industry.
In the UK, employers are responsible for all recruiting fees. These fees can vary depending on the job role, type of employment and the service required. The fees are generally split into three categories – Temporary Worker, Temp to Perm and Permanent fees. You can find a full breakdown of the cost of a recruitment agency
here.
Download our infographic here: