How to deal with wellbeing washing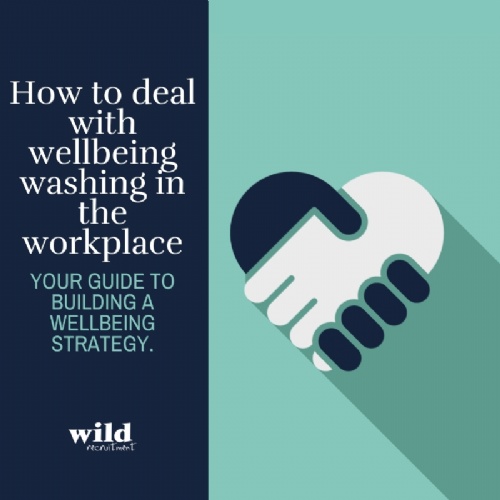 A recent study by People Management shows that more than one in three (35% of) organisations have been wellbeing washing. While 71% of businesses are shouting about mental health awareness days on social media.
Wellbeing washing is when an organisation makes a public display of support for mental health initiatives but lacks adequate mental wellbeing support.
Workplace wellbeing is never a one-size-fits-all approach, which is why your wellbeing strategy needs to be an all-rounded approach that looks at all aspects of company culture. Its important employee wellbeing is not just a box-ticking exercise, it should be a priority that is embedded into your organisation.
A wellbeing strategy is vital for organisations. An effective strategy can add value, shows your team you care, improve engagement, morale, productivity, reduce the number of sick days due to poor mental health and staff turnover, create a healthier company culture, open up conversations around mental health at work, ensure a strategic approach that allows for the proper measuring and tracking of employee wellbeing. Below are our top tips to a successful wellbeing strategy.
1. Identify someone who leads the wellbeing initiatives in the workplace
Depending on the size of your organisation will dictate how many people you'll need involved with this. You will need someone who is responsible for the strategy, measuring and implementation. Make sure it's clear who is responsible for the different areas.
Remember to spread the word of this as its important employees know where to go with any questions and suggestions.
2. Choose a way to measure health and wellbeing
Knowing how you plan on measuring the success of the strategy is an easy way to identify if the change's you're making are having a positive impact on the employees and company. It might mean you'll need to carry out a policy review and check that mental health is acknowledged by existing policies such as employee performance, health and safety, working hours, sickness absence, and return to work.
Introducing a scheduled staff satisfaction survey is one way you can measure employee experiences, using human resources data such as staff turnover and absence are both examples you can use to measure health and wellbeing in the workplace.
3. Collect current data and set goals
It's a good idea to identify your starting point. From here you can collate any relevant data which will help you to measure health and wellbeing in the workplace. You can use this data to set this initial score as a benchmark and then can set SMART (specific, measurable, attainable, relevant and time-based) short-term and long-term goals.
4. Speak to employees
Asking what employees really want, and ideas they have will start to encourage engagement. At first, if employee wellbeing hasn't been at the forefront of your company strategy, employees might be slow to engage. This could be a problem when trying to collate data. You therefore need to focus on involving the whole team in your plans.
Spread the word and let the company know that a new workplace wellbeing strategy is going to be introduced. Involving the employees will help them feel more involved, engaged and they may feel like there opinions are valued. The more ideas, the easier it will be to build your wellbeing strategy.
5. Drip feed new initiatives
You've spread the word, got the ideas and now you can start implementing these ideas into the workplace. At this stage it's best to gradually introduce the new initiatives as too much at once can be overwhelming, especially if employee wellbeing initiatives are new to the company.
Initiatives that are based around problem areas the employees highlighted as areas of concern then workshops or initiatives based around these shows you're listening and keen to support them. Some initiative ideas might include:
- Regular workshops on a variety of topics identified from your surveys
- Team-building or socials to improve mental wellbeing and connection
- Employee assistance programmes
- Mentoring programmes
- A platform or app that provides classes/courses for wellbeing
- Tools for physical wellbeing
- Financial wellbeing programmes
- Wellbeing benefits and discounts
6. Communication
Most of the time companies will have wellbeing programmes in place, people are just unaware as they're not shouted about. So shout about your wellbeing strategy and spread the word, increase engagement and let employees know they're cared about. You can keep employees in the loop with regular newsletters and talking about initiatives in meetings.
Once you've communicated about the wellbeing programme you can evaluate how things are going. For example, once a quarter sending out anew survey. Check on the data you collated when starting up the programme and compare to see if the initiatives are positive impact. If there is no improvement, it might be worth checking that the initiative is communicated well.
Sounds easy, but this will not be an overnight fix. Wellbeing programmes require trust from the employers, so make sure you have the right people, information, data, initiatives and communication in place to be successful. Start getting employer engagement and people will follow.