Lockdown roadmap: when should I start hiring?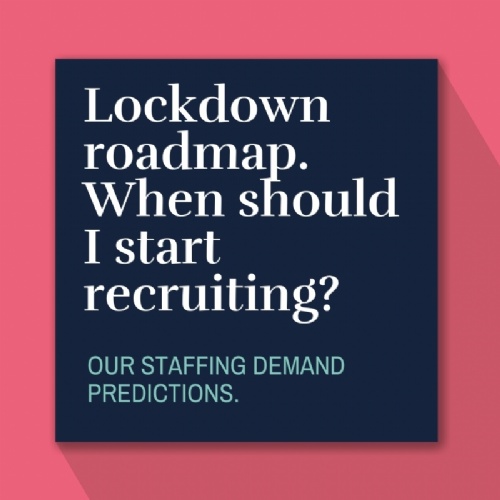 The UK Government has released its 'lockdown roadmap', which hopes to end England's restrictions by 21st June. But what does this roadmap mean for businesses nationwide and what impact will it have on the availability of staff?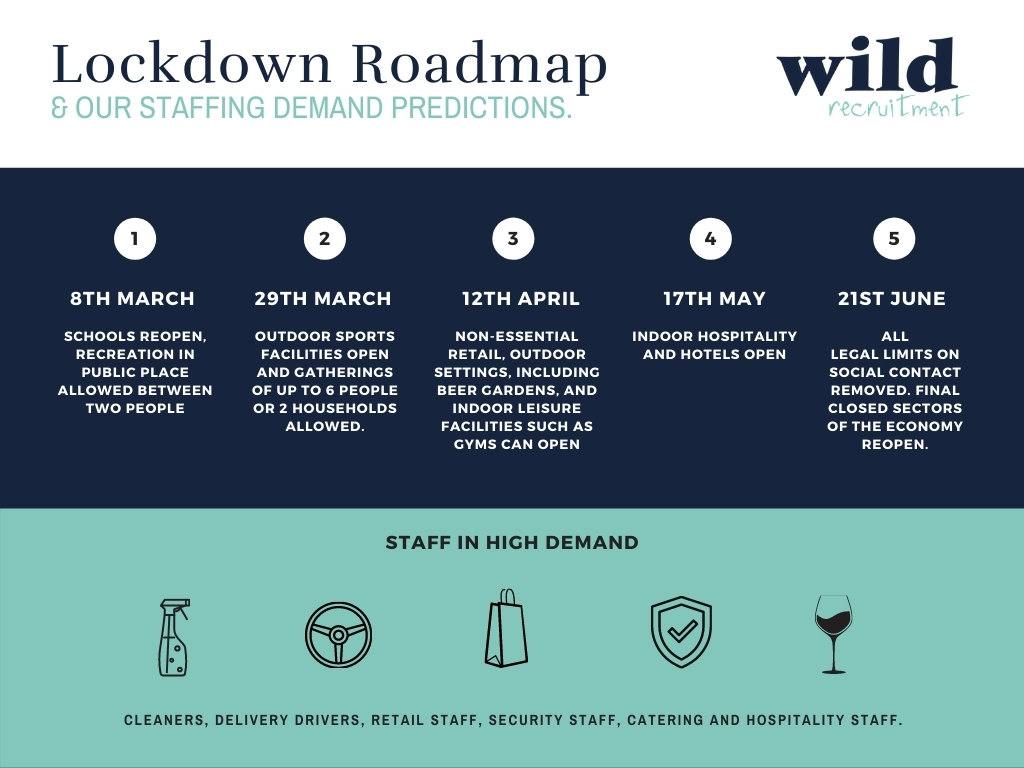 All schools will open with outdoor after-school sports and activities allowed. Recreation in outdoor public spaces - such as a park - will be allowed between two people, meaning they would be allowed to sit down for a coffee, drink or picnic.
Outdoor gatherings of either six people or two households will be allowed. It is understood this will include gatherings in private gardens. Outdoor sports facilities such as tennis or basketball courts will reopen and organised adult and children's sport, such as grassroots football, will also return.
We are predicting an increase in requirements for public area cleaners and COVID marshals, especially as more people will be using public recreational areas including public toilets, parks and carparks, and private estates such as nature reserves.

As schools reopen, requirements for cleaners and catering staff are set to rise and as the weather improves, businesses offering takeaway services are likely to see an increase in custom, prompting demand for retail assistants, delivery drivers, baristas and kitchen staff.
Non-essential retail opens, plus hairdressers and some public buildings like libraries. Outdoor settings like outdoor restaurants, beer gardens, zoos and theme parks will open. Indoor leisure centres including swimming pools and gyms will restart. Self-contained holiday accommodation, such as self-catering lets and camp sites will open.
As non-essential retail opens up, we are expecting to see demand for COVID marshals and chaperones, to help customers maintain social distancing, rise once again.
UK holiday lets, camp site and outdoor leisure facilities are expected to be extremely busy this summer, so we expect to see a demand for staff in the following sectors rise; security, customer service, refuse and removal, facilities and maintenance.
Cleaners will also be in particular demand for indoor leisure facilities, ensuring that frequent touch points, such as gym equipment, door handles and rest rooms are sanitised regularly.
Indoor hospitality and hotels open.
Thousands of bars, restaurants and cafés have been waiting for this day, so when they are finally allowed to open once again, they will want to get only the best staff in to ensure a smooth reopening process. Everyone with catering and hospitality experience, whether that's kitchen porters, bar and waiting staff, chefs, baristas or front of house, will be in demand in the run up to this week, so make sure you recruit early!
All legal limits on social contact removed and the Government hope to reopen the final closed sectors of the economy.
This could be a very busy time for the catering and hospitality, with events such as the European football championship taking place.
If you are looking to recruit and would like the support of one of Wild Recruitment's expert consultants, you can request a call back at a time that suits you!