Transferable skills from catering & hospitality.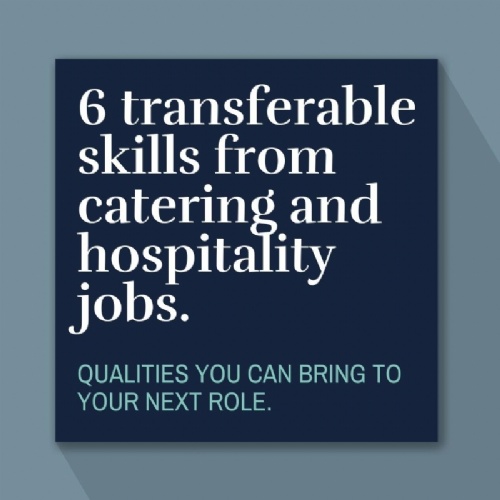 Are you thinking about working in the catering and hospitality industry, whether it be temporarily or permanently? We've rounded up our top skills that working in catering and hospitality can teach you, which can be transferred to other roles within the industry, or another industry all together.
The catering and hospitality industry is unpredictable. Some events may mean each week is not the same, and you could be called upon to work weekends. This teaches you how to adapt and be flexible to accommodate unplanned changes.
Flexibility will show employers that you're willing to do the extra bit and demonstrate a willingness to help.
Perhaps the most integral skill of a catering and hospitality worker is knowing how to communicate effectively with customers, how to act with professionalism and how to pacify or rectify a situation. Not only will customer service experience lead you smoothly into lots of customer-facing roles, it's also a great skill to have for working cooperatively with others.
Presentation is also key to customer service and how you present yourself remains important to success within other roles.
Multi-tasking and organisation
With no two days the same, working in catering and hospitality often means quickly alternating between one task and the next, or doing multiple things at once, and organisation is the key to serving customers efficiently and ensuring the day goes successfully.
The ability to multi-task and organise effectively is invaluable in almost any job role, particularly in roles such as administration, finance, production, warehouse, delivery driving, sales or merchandising.
Long shifts, challenging circumstances and high pressure are frequently part of working in catering and hospitality. The world of work can be a challenging one at times, and so having strong resilience may help you get past those difficult patches employees sometimes face, and reduces the risk of burnout.
Teamwork is a prevalent asset in the catering and hospitality industry. Regardless of whether you're a chef, waiter, events assistant, manager or barista – you're likely to spend some time working in coordination with colleagues, building relationships or supporting workloads. You will learn how to handle different people and work in a high-pressure environment as part of a team to create a united front.
The ability to work well with others is an invaluable tool in many job roles, as it boosts productivity in the workplace, encourages innovation and improves motivation. So if you're an admirable team player, this would certainly be something to bring to the table in a new role.
Often in the catering and hospitality industry, you're required to think on your feet, react quickly to an unforeseen circumstance or solve a problem. This can involve a great deal of initiative if you're unable to ask for help or if something needs to be dealt with immediately. While sometimes the fix may seem simple, you are constantly learning how to adapt and be flexible.
Having a strong initiative is an excellent trait and will assist you in many job roles. It shows you're resilient and adaptable to change, while reassuring employers that if a challenge presents itself to you, you'll do your best to tackle it.