What does your interview say about your employer?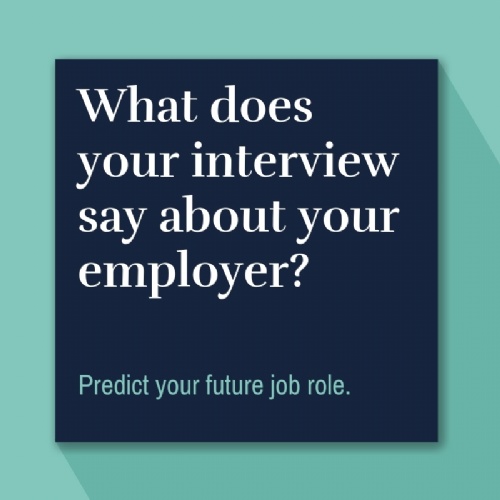 Imagine landing your dream job only to find that the work culture doesn't match what you envisioned.
How were you to know that you would be sharing a small office space with ten other people? Or that in order to gain your boss' respect you feel pressured to work through your lunch break? These are just a few examples of poor work cultures that can be hard to predict, prior to accepting a new role.
What many employers don't realise throughout the interview process is that the interviewee is not the only one being moderated. As a job seeker, you can learn a great deal about a company simply by paying attention to their treatment of you and those around you during your interview process.
A company's process for conducting interviews says a lot about how employees treat one another and the overall culture of their business. At Wild Recruitment, we have a lot of experience when it comes to interviews, so we've put together some tips on what to look out for throughout your interview.

Prior to even attending the interview, the way an interviewing company prepares you for the process says a great deal about them. If you find that you are having to go back and forth to ask for details such as who will be interviewing you, the interview length or location this may be an indication of a company with a more laid back culture.
A company that wants to portray an organised and structured work culture is more likely to explain all of these details over the phone and follow up with added details on an email. This way there is no way any miscommunications can occur over the phone and you can better prepare yourself!
Remember, if your interview is being organised through a recruitment agency, your recruitment consultant will be the one providing you with these details so don't be afraid to call them and ask any questions you may have.

On the day of your interview, your interviewing company should be completely aware that you may be nervous. Giving you clear instructions on what time to arrive and the location of the interview is essential. Additionally, your interviewer should make sure that there is clear signage particularly if they're based in a large or shared building. The last thing anyone wants before an interview is to get lost and arrive late.

What was is it like when you first walked in? Pay attention to who greets you, their professionalism and their awareness that you may well be out of your comfort zone entering a brand new workplace. Do employees around you make eye contact and smile? Coworkers that aren't involved in your interview process can be a great indicator of the culture of a business. They may not even know you're there for an interview, but if they smile or even offer guidance, this can be a really positive indication of the nature of their work environment.
It is likely that a lot may be going on throughout the first impression, so it's okay to take a mental note of how you are treated and reflect on it later. Ask yourself:
Was the first impression what you expected?
Could you see yourself working among the type of people that you interacted with?

There is a lot of debate about how early job seekers should arrive for an interview. However, the same goes for the companies doing the interviewing. If you arranged for the interview to occur at a certain time, it is appropriate for you to expect your interviewer to be just as timely as you. If your interviewer is late, consider whether or not they apologised or acknowledged their lateness out of respect for your time.
It may also be the case that your interviewer is late simply because of workload and although they could have asked someone else to do the interview, they may have taken time out of a busy schedule to get to know you. For some, an indication of employees with a heavy workload may be appealing if you are the type of person who prefers to be busy.


A crucial part of the interview process is your interviewer giving an in depth description of the role you are interviewing for including:
Day to day tasks and responsibilities
The nature of your work station or office space
What they are looking for in the chosen applicant
Why they chose you to progress to interview stage

An interviewer's choice of questions, particularly those outside of the 'role specific' questions can be one of the greatest indicators of what they care about as a business. For example, a company that asks about your personality and preferred working style is likely to be doing so to consider how they can cater for your needs as well as their own. Questions about your personality can also mean that they care about the quality of the people they on-board and how they will fit in with their current work culture.

So after you've given your all and done your best to sell yourself to your interviewer, most of the time they open up the doors for you to ask them questions. Another daunting part of the process that isn't comfortable for everyone. Although you may feel as though everything has been covered, it's important to draw attention to some parts of the role that would be important to you if you are later offered the role.
If you're struggling for ideas, here's some great questions to ask when the opportunity presents itself:
Describe the culture of your company?
What is a typical career path for someone in this role?
What are your expectations of the successful applicant for this role?
What do you think are the most important qualities of someone who would excel in the role?
Be careful not to ask a question that has already been discussed, however it is a great idea to ask for additional details on anything you weren't clear on.
When your interview is coming to an end and you have finished asking any questions you may have, it's important to be honest with your interviewer about what you want out of this role and any needs you may have such as flexibility for family commitments. Your future employer will respect the fact that you were upfront, and if it turns out you are offered the position, a good company will do their best to cater the role to these needs.

In conjunction with your interview experience another step you can take is checking review sites such as Glassdoor and Indeed. These sites, at times, can give a great insight into the culture of a company or previous experiences other employees may have had. While it is important to do your research, be very careful when interpreting reviews.

Another method of researching your potential employer is seeking out any connections you may have currently working for the same company. If you can recognise a mutual friend who is a current or past employee, they can give you their opinion of the work culture and assist you with your decision.
Some of the most important deciding factors when choosing an employer is whether or not you feel you'll be a good fit for a given role, the culture as well as whether the logistics and working hours are suited to your lifestyle needs.

Take your time making a decision and ensure that you consider all of your options. At Wild Recruitment we provide an array of advice and support for job seekers that could further assist you throughout this process. For more information, visit our candidate zone or give us a call today!